e-Shop
Sanyan (Brown) "Gobi" Cap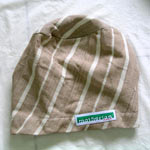 Hat Type: Gobi
Fabric/Color: Sanyan (Brown with light brown or/and white stripes. There are several varieties of stripes)
Details
"Gobi" is the traditional Yoruba cap with a round top which the wearer may choose to style and shape by folding, twisting etc. as he wishes.

The fabrics used for these caps are hand woven on the traditional Yoruba loom. The fabric is called "Ofi" or "Aso Oke". Each cap is individually hand sewn and features an innovative custom one-size-fits-all elastic design.
Each cap has the Motherlan' label.
How the caps are often worn/styled