e-Shop
Alaari (Wine) "Abeti Aja" Cap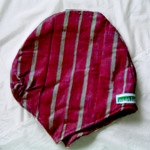 Hat Type: Abeti Aja
Fabric/Color: Alaari (Wine colored with white or/and black stripes. There are several varieties of stripes)
Details
"Abeti Aja" is the traditional Yoruba cap which, by virtue of its triangular flaps, is humorously named after large dog ears. The cap may be worn and shaped as wished.
The fabrics used for these caps are hand woven on the traditional Yoruba loom. The fabric is called "Ofi" or "Aso Oke". Each cap is individually hand sewn and features an innovative custom one-size-fits-all elastic design.
Each cap has the Motherlan' label.
How the caps are often worn/styled